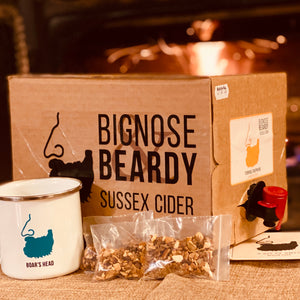 Home Cider Mulling Kit
Mull your own cider to order at home.
We will send you a pop and pour bag in box of cider (size and variety of your choice) and enough spices to mull all of it. Perfect for parties (when we can have them) or mull a mug or two at a time to see you through the winter.
Comes with instructions. Just add sugar to taste, or add apple juice for a sweeter mull.
Once popped, the cider will last for a few weeks.
Mug not included.
FREE LOCAL DELIVERY (to TN22 1,2,4,5) or delivery costs from £10. We ship orders on Tuesdays and Thursdays (allow up to seven days for delivery).
Deliveries must be signed for by a person aged 18 or over. Drivers operate a challenge 25 policy: if you appear under 25 you will be asked for photo ID.
Local customers you can also collect from the Cidery on Fridays or at other times by appointment with no shipping costs.