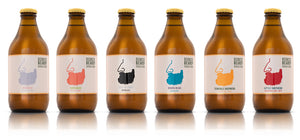 Join Our Cider Club

Members of our cider club receive regular deliveries of our small batch ciders direct to their desk or door every month. Our club community is the first to taste the latest Bignose & Beardy batches and receive invites to our community events. Members can also enjoy exclusive batches of cider not available to the general public and enjoy 15% off all purchases.
WHAT ARE WE ABOUT?
Traditional real Sussex cider and vinegar made with enthusiasm in a sleepy East Sussex village called Framfield.
Our ciders are still, unfiltered, unpasteurised and wild fermented in small batches.
No fuss cider and vinegar made in a no fuss way. We leave it alone for months and months and let nature do its thing.
Read more
Our Sussex Cider Story
A story of how friendship, passion and an out of control hobby has helped put real Sussex, Eastern Counties-style cider back on the map.
Read more
Helping pick, press and pack. I can't tell you how calm I felt. Thank you!
James
Real Cider made the traditional way. You can taste the simplicity.
Rebecca
The boys had the best time! They can't wait to pick next year!
Marc
Fantastic locally and traditionally pressed cider.
Ashley
Whether you take part in one of their many apple picking days or just receive a delivery from Bignose and Beardy, you feel like part of very special venture.
Jean
It's more than just a cider. It's a way of life.
Sarah