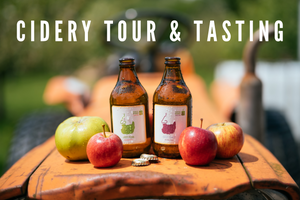 Enjoy a cider tasting and tour at our beautiful East Sussex orchard and cidery!
Each tour with Bignose & Beardy includes...
A tour of the orchard, seeing the trees, how they grow and produce apples for cider
A hands on tour of the cidery, seeing the press, tanks and other facilities used to make our cider
A tutored tasting and history of all our ciders sitting out among the apple trees (or in the cidery if it is wet)
Bignose & Beardy make real vintage Sussex cider and vinegar using local waste fruit. Our ciders are wild fermented, slow matured, unfiltered and unpastuerised. We produce small batches which change in profile with each year, depending on the source of the apples and the weather. We do everything by hand and leave our ciders to mature for at least a year and often longer, resulting in complex flavours. Our ciders are Eastern Counties or New World in style, fresh, acidic, fruity, floral and delicious.
Add a discounted three bottle gift pack to make this a great gift idea for a cider fan - we'll send it out when we receive your booking. If you would like a gift voucher, just drop us an email.
The Cidery is at: Upper Brookhouse Farmhouse, Brookhouse Lane, Framfield, TN22 5QJ
Our What/Three/Words location is: acute.fermented.begin
Here's what some of our guests have said:
"Thank you so much for the tour on Wednesday. We all thoroughly enjoyed the tour, and have been talking about it between ourselves and to our friends and family since. We all thoroughly enjoyed it. We started the tour with one cider lover with a passion for trees in our midst and by the end we were ALL fascinated by the whole cider making process, having had a thoroughly enjoyable time!"
"The cider tour at Big Nose & Beardy was fantastic! Phil the host was engaging, interesting and fun, teaching us some really interesting facts about the cider making process. The tasting itself was also brilliant! My personal fave was Turning Japanese. Thanks once again for a great day out."
" Had a mint time today at Bignose and Beardy learning all about how to brew a quality British cider. The whole experience was broken down into 3 parts. First a tour of the orchard and learning all about the various apple trees needed to make a great brew. Next the process itself of turning the apples in to cider and how the business has grown since it's infancy, and finally a generous tasting (boozing) session where we got to try a great range of labels through dry, medium dry and sweet (as well as a bitter taste of some apple-cider-vinegar). Phil (Bignose) had a great passion for what he and Beardy do, and it really came across both before and after a few bottles were sunk!  A must-do for all true cider-lovers! Cheers for a great day."
"The cidery's setting is so beautiful, a great backdrop for your business. Your passion for the apple trees and cider making are infectious, resulting in us all learning interesting facts which we will never forget about apple trees and the cider making process itself. It was also great to taste such a wide variety of ciders, each deciding which was our favourite. It is not surprising that we walked away having purchased a range of your ciders to share with friends. We would highly recommend this tour to others (and have already been doing so since we visited.) We wish you and Beardy continued success with your business."